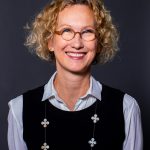 Ursula Schmidt-Erfurth, Univ. Prof.
Head of Department of Ophthalmology and Optometry
Medical University of Vienna
Email: ursula.schmidt-erfurth(at)meduniwien.ac.at
Phone: +43 1 40400 9300
Curriculum Vitae: CV
Bio:
Ursula Schmidt-Erfurth is Professor and Chair of the Department of Ophthalmology at the University Eye Hospital, Vienna, Austria, one of the largest academic institutions in ophthalmology in Europe. She completed her medical training at the Ludwig Maximilians-University in Munich, Germany, and began a career as a research fellow at Harvard Medical School, Boston, where she pioneered in the development of photodynamic therapy, a breakthrough in retinal therapy. Professor Schmidt-Erfurth's clinical activities include both surgical and medical retina. Her scientific research focuses on the development of novel diagnostic techniques, e.g., retinal imaging and novel treatment strategies such as intravitreal pharmacotherapy. She has founded the Vienna Study Center (VSC), which serves as the principal investigator site for multi-center clinical trials, and the Vienna Reading Center (VRC), an institution for digital retinal imaging performing image analysis for clinical trials connected with over 400 clinical centers worldwide. In 2013, she founded the OPTIMA project, an interdisciplinary laboratory including computer scientists, physicists and retina experts introducing artificial intelligence into ophthalmic image analysis. She is an inventor on several patents on retinal imaging and therapeutic methods. She is an adjunct professor of ophthalmology at Northwestern University, Chicago.
Professor Schmidt-Erfurth is a founding member of the Medical Imaging Cluster (MIC) and the speaker elect. She is a board member of EURETINA, the European Retina Specialists, and served as president of the society. She is a member of many professional organizations, including the Association for Research in Vision and Ophthalmology (ARVO), Macula Society, Retina Society, Gonin Club, the European Academy of Ophthalmologists and the American Academy of Ophthalmology. The author of over 360 original articles, Professor Schmidt-Erfurth serves on the editorial board of the British Journal of Ophthalmology (BJO), Investigative of Visual Sciences (IOVS), Acta Ophthalmologica and European Journal of Ophthalmology. Professor Schmidt-Erfurth has received numerous grants and awards, among others the Research Award by the German Ophthalmological Society, the Achievement Award of the American Academy of Ophthalmology, the Roger Johnson Award by the University of Washington, the Donald Gass Award of the Retina Society and the Donald Gass Medal of the Macula Society. She serves as a reviewer for the European commission, the Welcome Trust, the German Research Foundation (DFG) and other funding organizations. She is active in the board of the Austrian Research Foundation, OEFG, and Vicepresident of the European Forum Alpbach, an interdisciplinary platform for science, politics, business and culture, established in 1945, addressing the relevant socio-political questions of modern time.