Computational Imaging Research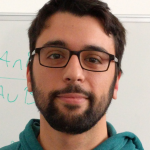 Jose Ignacio Orlando, PhD.
Postdoctoral Researcher
Department of Ophthalmology and Optometry
Medical University of Vienna
Email: jose.orlando(at)meduniwien.ac.at
Phone:
Office: Rektoratsgebäude (Building 88, floor 2, room 206)
Bio:
José Ignacio Orlando received his Software Engineering degree in 2013 at Universidad Nacional del Centro de la Provincia de Buenos Aires (UNICEN) in Tandil, Argentina. He obtained his PhD in 2017 from the same university, working under the supervision of Prof. Matthew B. Blascko (KU Leuven, Leuven, Belgium) and Prof. Mariana del Fresno (UNICEN, Argentina) with a PhD scholarship granted by CONICET. During his doctoral studies he worked on fundus image analysis based on machine learning and computer vision techniques. During his PhD studies he has also worked as an intern in the Center for Visual Computing at École Centrale Paris (Paris, France). In January 2018 he has joined as a postdoc to the Ophthalmic Image Analysis laboratory (OPTIMA) in Vienna, Austria. His current research interests are the application of machine/deep learning techniques for ophthalmic and medical image analysis.
Research Interests:
– Deep learning
– Fundus and OCT image analysis
– Computer vision
Journal Publications:
J.I. Orlando, E. Prokofyeva, M. del Fresno, and M.B. Blaschko. An ensemble deep learning based approach for red lesion detection in fundus images. Computer Methods and Programs in Biomedicine, 153(1):115–127, 2018. doi:10.1016/j.cmpb.2017.10.017
J.I. Orlando, K. van Keer, J. Barbosa-Breda, H.L. Manterola, M.B. Blaschko, and A. Clausse. Proliferative Diabetic Retinopathy Characterization based on Fractal Features: Evaluation on a Publicly Available Data Set. Medical Physics, 44(12):6425–6434, 2017. doi:10.1002/mp.12627
J.I. Orlando, E. Prokofyeva, and M.B. Blaschko. A discriminatively trained fully connected conditional random field model for blood vessel segmentation in fundus images. IEEE Transaction on Biomedical Engineering, 64(1):16–27, 2017. doi:10.1109/TBME.2016.2535311
L.D. Lo Vercio, J.I. Orlando, M. del Fresno, and I. Larrabide. Assessment of image features for vessel wall segmentation in intravascular ultrasound images. International Journal of Computer Assisted Radiology and Surgery, 11(8):1397–1407, 2016. doi:10.1007/s11548-015-1345-4
J.I. Orlando, and M. del Fresno. Reviewing preprocessing and feature extraction techniques for retinal blood vessels segmentation in fundus images. Mecánica Computational, 33(42):2729–2743, 2014.
Conference Publications:
J.I. Orlando, M. Fracchia, V. del Río, and M. del Fresno. Retinal blood vessel segmentation in high resolution fundus photographs using automated feature parameter estimation. In: 13th International Symposium on Medical Information Processing and Analysis (SIPAIM 2017), Proc. SPIE, 10572, 1057210, 2017. doi:10.1117/12.2283539
J.I. Orlando, E. Prokofyeva, M. del Fresno, and M.B. Blaschko. Convolutional neural network transfer for automated glaucoma identification. In: 12th International Symposium on Medical Information Processing and Analysis (SIPAIM 2016), Proc. SPIE, 10160, 101600U-101600U-10, 2017. doi:10.1117/12.2255740
J.I. Orlando, and M.B. Blaschko. Learning fully-connected CRFs for blood vessel segmentation in retinal images. In: Medical Image Computing and Computer Assisted Intervention (MICCAI 2014), Lecture Notes in Computer Science, 8673, 634-641, 2014. doi:10.1007/978-3-319-10404-1_79