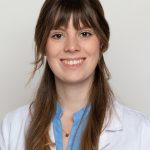 Sophie Frank, Dr. med. univ.
Doctoral Research Scientist
Department of Ophthalmology and Optometry
Medical University of Vienna
Email: sophie.frank(at)meduniwien.ac.at
Phone: +43 1 40400 79240
Office: AKH building (Level 8, room 08.i9.15)
Bio:
Sophie Frank obtained her Diploma in human medicine from the Medical University of Vienna, Austria, in 2020. For her thesis she worked on the role of interleukin 8 in systemic mastocytosis. Besides her studies she did research in the field of hemato-oncology at the Clinical Institute for Laboratory Medicine (KIMCL), AKH Vienna. After graduation she completed the basic residency at Klinik Penzing, Vienna.
Since October 2021 she joined OPTIMA as Doctoral Research Scientist in the field of artificial intelligence, researching optical coherence tomography (OCT) biomarkers in Geographic Atrophy secondary to age-related macular degeneration.
Research Interests:
Her general research interests are in the application of artificial intelligence for retinal image analysis. She is particularly interested in developing automated algorithms for early diagnosis, monitoring of treatment results and prediction for progression risk of patients.
– Artificial intelligence in retina
– Retinal image analysis
– OCT biomarkers in retinal diseases